decorating a stag for a school project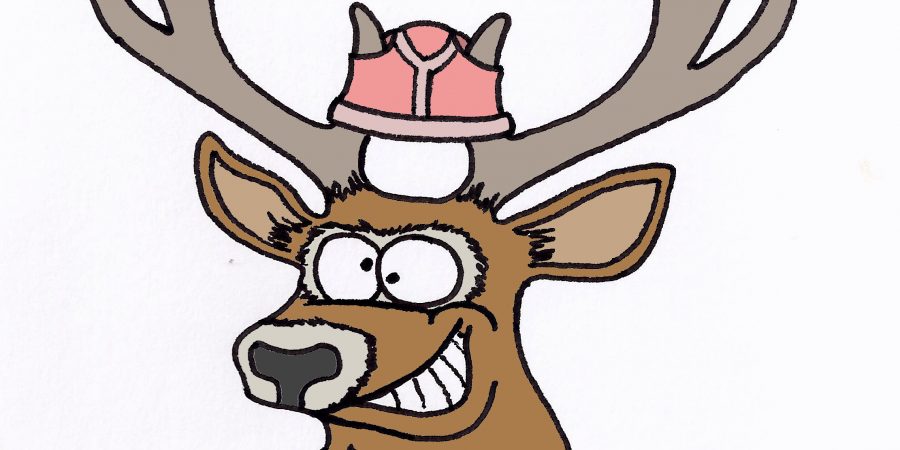 Every now and again I get a request for something a bit different. Last winter one of those requests landed in my inbox, and I thought I'd give it a try.
A local Primary School was planning a treasure hunt all over my home town as a fundraiser, which they would hold over a couple of weeks during the summer. The plan was to get the kids to decorate a wooden deer head for each class to hide around the town. People could then pay £2 for a map to follow and collect clues, with one lucky family winning a prize.
The school also wanted to get some local artists involved to decorate their own wooden deer heads, and I was one of the names that came up.
While I was happy to get on board to support a local cause (and of course, plug some of my artwork in public), this one threw up a particular challenge. I usually only deal with digital mediums, as quite frankly, physical paint is not my thing. So I decided on a slightly long-winded hybrid method that actually turned out OK.
The Design
Before getting too far ahead, I decided to brainstorm a few ideas and present some different options to the PTA member who had contacted me. I had basically been given free reign to do what I wanted, but I thought I might as well see what they liked best out of my ideas. This is the MDF template that I was provided with to decorate, and the four draft options I came up with:
Apparently the PTA member asked her children which deer they preferred. Being 6 and 11, you can guess which one they liked the best – the one with the pink pants! To be honest, that was my favourite too. As soon as I saw the antlers I knew I had to do something with them!
Turning Wood into Pixels, then back again
Now with a design confirmed, I had to figure out how to get my digital cartoon onto a physical template. The gallery below shows how this was finally achieved:
After I was finished, the deer head was collected by the PTA, who were very pleased with the finished product. A few weeks later, my design was placed in the window of a local pottery shop: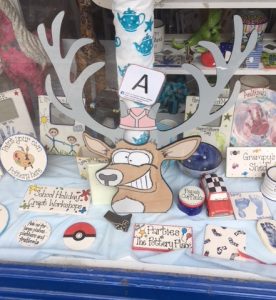 I was quite pleased to see my work showcased in the town along with all the other deer heads – many decorated by the various classes and some by local artists. I have to say many of the other designs were absolutely amazing – intricate hand-painted floral patterns, woodland scenes and landscapes.
While I can't say my daft stag with underpants on his antlers was going to win any awards, I like to think it made everyone who passed that pottery window laugh.