It was either this or a toaster…

OK, so I know it's a bit wrong to go on about a gift that you've got for someone, or something that you've done as a favour. However, there is a purpose to this article other than blowing my own trumpet.
The number one service I get asked to carry out as an illustrator is custom caricatures – usually as gifts for a friend or relative of the customer. In this article, I will show you my process for creating a custom caricature gift for someone, using a gift I made a few years ago as an example. I'll tell you about the thoughts and details that went into it. I'll also explain a bit about a technique for creating backgrounds that I've been using and perfecting recently.
The process of creating a Custom Caricature
My starting point for any custom caricature is a photo, or even better, several photos. I want to be able to clearly see the people's faces and other features that capture their personality – clothing, hair, body type, mannerisms, and any props that tell you about their interests or job. For this caricature I had a photo of the couple on the night that they got engaged, and another one of the inside of the marquee where they had eaten dinner and where the proposal happened. So not only do I have the people, but I have a story to depict!
My first step was to sketch the couple in pencil, mimicking the photo of them together, with the same clothes they were wearing, including the engagement ring. I was also looking for characteristic features and mannerisms – not just hair and facial features and expressions, but minor details like the groom's shirt being slightly untucked. (This is something he always does and gets told off for on a regular basis, so it's a personal detail that only those who know him would immediately recognise!) As per usual, I traced this in black ink to create this line drawing.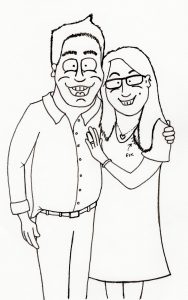 After scanning the image, I was able to fix the errors (you can see one marked on the previous picture with a little note "fix") and colour it as per usual, creating this caricature with a blank background: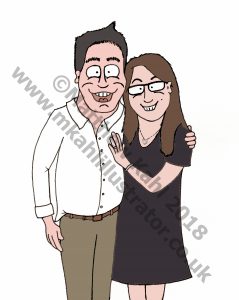 Next was the background. Usually I would draw this by hand or trace it, but I thought to add a bit more detail and atmosphere I would use the actual photograph of the marquee interior, with several filters added to make it look as if it had been drawn or painted. I then added various stages of blurring and lighting until it was just right.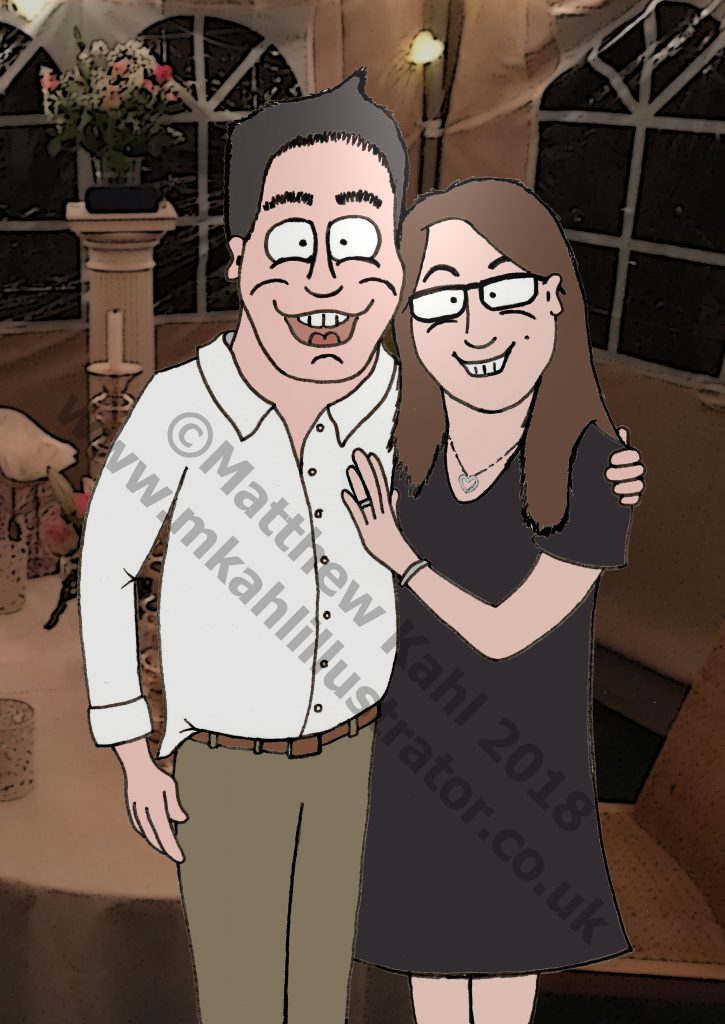 Is this technique for backgrounds a shortcut? In some ways it's quicker than drawing and colouring by hand, but overall I would say no. I tend to use this technique for projects where a very detailed background is required – something like a crowd for example – or when it would add atmosphere to a project. I wanted to capture that dimly lit marquee with a table, flowers a fairy lights. It was very special for the couple, and it would have seemed a bit wrong to have just a regular hand-drawn background.
With the computer trickery over, I then got the cartoon printed and framed and wrapped it up just in time for the wedding. This was it sat on my desk before I gave it to them:
And there you go, a bespoke caricature for the happy couple! If you would like to order your own custom caricature as a gift for someone, head over to my dedicated Custom Caricatures page.
(As a small side note, yes my office was pink at the time – it was like that when I moved in and redecorating wasn't a high priority!)